News
Samson Awnings are pleased to present a new product to our range of louvred roof systems, the Pergola Agava. The roof consists of motorised aluminium blades that lock to form a water tight seal, these systems can provide shelter even in the worst of wet weather conditions. The blades have a full 120° of movement, which when open encourage not just sunlight to enter, but also a natural feeling airflow from above.
The system really is the perfect mix of sun and shade, and it's striking and beautifully minimalist design hides it's impressive technicality. Able to be mounted to the wall, the fittings that enable this are completely invisible, and the motor that powers the blades is incorporated into the frame.
The frame itself is constructed using sturdy and stylish aluminium, which means the system really is strong, durable and highly weather resistant. The Pergola Agava is able to withstand sun, wind, rain and even snow loads. Rainwater is channelled away to avoid remaining stagnant and damaging the blades, through the insides of the supporting columns and exits at ground level, and the system is made in accordance to UK Wind and Snow Loadings.

This is a highly flexible system, with a range of three options, the largest able to cover an area of up to five metres by seven metres. Alongside this, multiple systems can of course be coupled together to create much larger covered areas.
It is also able to exist as a self-supporting stand alone (or "island") system, or it can be a "lean to" system which is fitted and bolted to an existing wall or structure. The sides can be filled with glass doors, wood or aluminium panels (all of which are sliding to allow for full flexibility), or motorised blinds.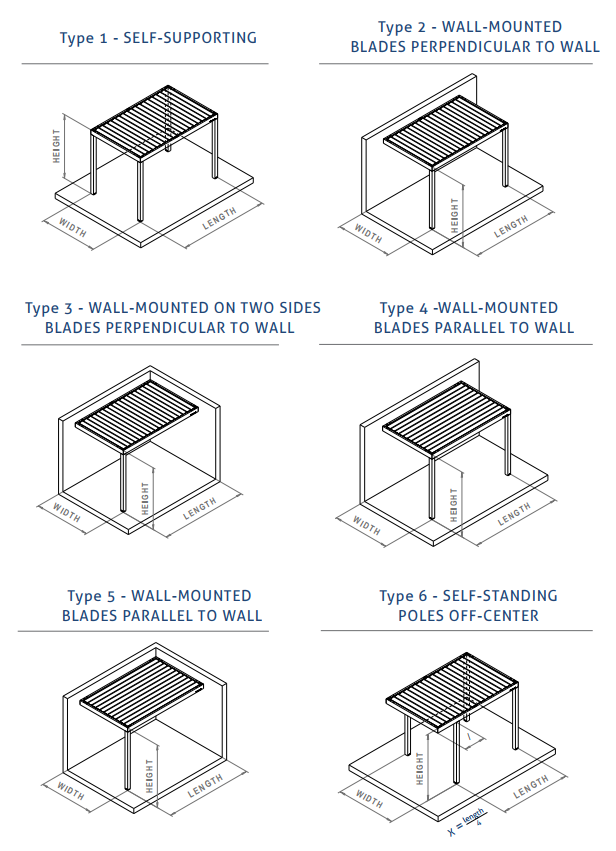 Additionally, they come with a variety of optional extras, such as LED lights incorporated into the blades, heater systems, and even sensors that detect wind, rain, snow, and the temperature. There's also an option for incorporated sound systems that can turn the area into either the soul of the party, or an island of tranquillity where you can relax, sheltered from the effects of the weather.

Both the frame and the roof blades can be finished in a choice of three colours as standard, however for a small additional cost they can be finished in any RAL colour. This can help with commercial branding, blend in to the environment or even stand out and make a statement.
The Pergola Agava comes with a five year guarantee for the frame, and a two year guarantee for the electrical components.