News

Wintergarden Offer
Our British summer is never quite long enough, so why not extend the season and the usability of your garden or outside space with a stylish wintergarden/glass room. Our completely bespoke solutions make a valuable addition to any home or business.
With a broad range of systems, the options are enormous. From giant Pergotex retractable roof systems which can filled in, and Glasoase systems that make excellent glassrooms that lean to an existing wall or structure of your house, to Med Twist and Varia systems which contain stunning louvred roofs and can be stand alone systems.
These systems suit both commercial and domestic properties. Domestically they can be used to host guests and entertain, as well as a possible island of tranquility for you to relax. Commercially, the systems work particularly well in the food and drink sectors, with cafes, restaurants and bars often using them to extend the usability of their outdoor space.
With extras such as LED lights, the usability of these systems all throughout the evening and night is extended even further. Alongside this, infrared heaters are available for colder days. These heating systems are not only powerful but save up to 30% on energy costs compared to traditional heaters;.
Our Autumn sale on any glass room or louvred rood system is now on!
This season, any like for like quotation will be beaten on these products. Give us a call now and discuss this.
A brand new system from Gibus, the Med Varia is truly a league apart from others.
The system has a roof similar to that of the Med Twist, with aluminium blades that twist and rotate. They open up to an impressive 135°, and can be adjusted to provide just the right amount of shade or heat. When open, the blades create a natural airflow that feels like being outside, yet when closed, the blades form a full roof, with a watertight seal that prevents occupants underneath from getting wet. Rain water is dealt with via an internal guttering system.
The Med Varia comes with zip closures already built into the frame, so blinds to protect from the sun are a large part of the system and can be combined with glass panels or doors for a truly stunning and multi-faceted approach that protects against all weather systems. Alongside this, there is a broad range of extras available for the Med Varia. LED lights help illuminate the system and combined with infrared heating systems, they manage to extend the amount of time your business can use your outdoor space, all whilst saving up to 30% on regular light and heating systems.
Every single Med Varia is a totally bespoke system, made to order to the exact specifications required by the customer. The systems allow multiple units to be joined, allowing for a huge variety in the shapes and sizes of the system. This means that no matter what space you have, this system has you covered.
This system can even have drop awnings fitted onto the side, with minimal intrusion on the design, up to 4 metres wide. The shading options vary, from total blackout blinds to crystal, all of which can be motorised.
A new awning from Weinor, the Semina Life is an extension of the already existing Semina line. The Life is a full cassette awning which not only looks great, but is also technically impressive. A great all-rounder, this awning is incredibly well built, and comes with a host of extras.
Aesthetically, the Semina Life is difficult to beat, with modern clear lines. There is a choice of over 150 fabric patterns, with a state of the art nanotechnology ensuring that dirt simply rolls right off.
There is also 200 frame colours to choose from. 50 of these colours come as standard, howver there are 150 additional RAL colours to choose from as an extra. The powder coating for these is all done at the in-house factory, ensuring the highest quality finish. The stainless steel headplate rings on the side provide a visual highlight and enhance the customised combination of the frame colour with fabric pattern.
The Weinor LongLife Arm has a very high tension force, which protects against even incredibly windy conditions, and allows the awning to have a maximum projection of 6.5 metres x 4 metres.
Alongside this, the Semina Life has a host of extras. The Semina Life LED has warm white LED lighting built into the cassette, which can be dimmed and brightened as needed. Alongside this, there is also the Tempura heating system.
With the motor drive system, and the weinor BiConnect radio control, the system is easily operated, and you can even use the BiEasy app to operate the system via your phone or tablet.
Samson Awnings are pleased to present a new product to our range of louvred roof systems, the Pergola Agava. The roof consists of motorised aluminium blades that lock to form a water tight seal, these systems can provide shelter even in the worst of wet weather conditions. The blades have a full 120° of movement, which when open encourage not just sunlight to enter, but also a natural feeling airflow from above.
The system really is the perfect mix of sun and shade, and it's striking and beautifully minimalist design hides it's impressive technicality. Able to be mounted to the wall, the fittings that enable this are completely invisible, and the motor that powers the blades is incorporated into the frame.
The frame itself is constructed using sturdy and stylish aluminium, which means the system really is strong, durable and highly weather resistant. The Pergola Agava is able to withstand sun, wind, rain and even snow loads. Rainwater is channelled away to avoid remaining stagnant and damaging the blades, through the insides of the supporting columns and exits at ground level, and the system is made in accordance to UK Wind and Snow Loadings.

This is a highly flexible system, with a range of three options, the largest able to cover an area of up to five metres by seven metres. Alongside this, multiple systems can of course be coupled together to create much larger covered areas.
It is also able to exist as a self-supporting stand alone (or "island") system, or it can be a "lean to" system which is fitted and bolted to an existing wall or structure. The sides can be filled with glass doors, wood or aluminium panels (all of which are sliding to allow for full flexibility), or motorised blinds.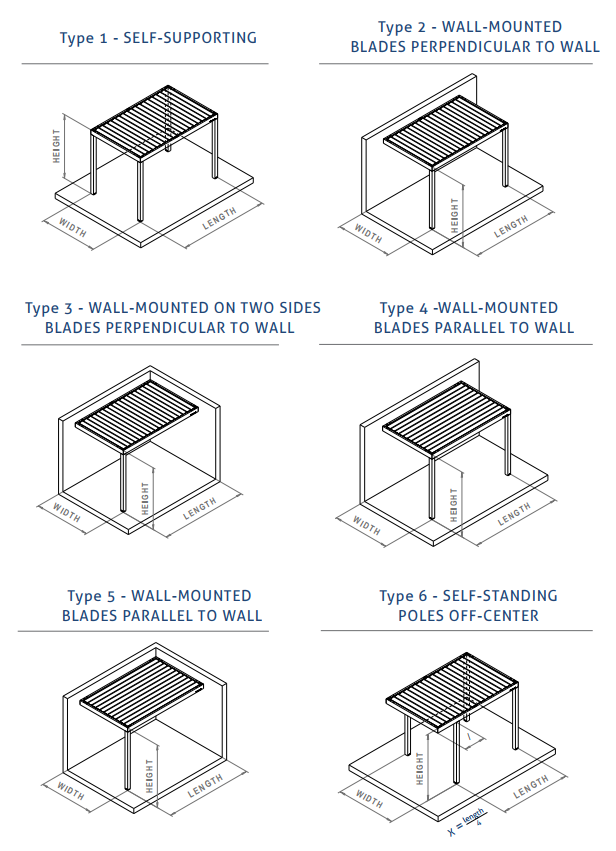 Additionally, they come with a variety of optional extras, such as LED lights incorporated into the blades, heater systems, and even sensors that detect wind, rain, snow, and the temperature. There's also an option for incorporated sound systems that can turn the area into either the soul of the party, or an island of tranquillity where you can relax, sheltered from the effects of the weather.

Both the frame and the roof blades can be finished in a choice of three colours as standard, however for a small additional cost they can be finished in any RAL colour. This can help with commercial branding, blend in to the environment or even stand out and make a statement.
The Pergola Agava comes with a five year guarantee for the frame, and a two year guarantee for the electrical components.
Recently fitted by Samson Awnings & Terrace Covers, these Markilux external window blinds were requested to provide sun shading on a large and uniquely shaped window on a domestic property. For this particular window we divided it into two blinds, a simple square blind at the bottom and a more unique triangular blind above.
The Markilux range of external fabric cassette blinds is incredibly diverse, and it includes the special Markilux 893 blind, designed for use on triangular windows.
The majority of blinds we sell utilise RTS technology, and similarly, this blind is electrically operated as standard. Because of this, the motor drive is able to be controlled wirelessly, and this gives the flexibility to add many different controls over and above the simple remote control handset. Timers, sun sensors, themostats and other controls all give the possibility of controlling both the light and temperature even when you are away from your property.
This blind is designed to fit externally, to prevent solar gain and also to provide additional privacy. External blinds are fast becoming a more popular product for temperature control in buildings across the UK, following the lead of our European neighbours.
Using an external blind provides an additional layer of sunlight control, protects against the wind, and also provides some additional security when using the zip blind system, with the fabric zipped in the side channels and pulled out of the cassette under tension. Many modern fabrics are incredibly resilient to all sorts of weather conditions, and there are also many options for perforated materials, which will allow some limited vision when closed too.
All of the blinds are purpose made to order, and provide an excellent solution to a lot of shading and wind protection issues.
For more on your options regarding shading for your properties windows, click here
For more on our vertical blind products, click here
The very popular weather protection system from Markilux now has 2 very striking lighting options to enhance to space underneath this superb retractable fabric roof system. The Pergola has been a great product to provide extra protection above what a normal retractable awning can provide.
The Pergola has support posts and a lean-to tracking guide system to take the awning in and out, supporting all the time from the sides as well as being tensioned front to back. The result is a large fabric cover system with extra tension on the fabric to provide strength against higher winds speeds and the option to protect against rainfall (when the pitch is set to 15 degrees or more), which many awnings cannot do.
The new lighting options for the Pergola are either adjustable spotlights on the cover tube sections, or a diffused LED light line in the entire length of the support tube. These lights come with a dimming option, which gives you supreme control over the light and atmosphere under the Pergola.
LED lights have a service life of around 20,000 hours, with 5W bulbs demanding very little power. As a result, this is a lighting option that will last for many, many years, whilst costing very little along the way.
Learn more about the Pergola here
The new full cassette retractable awning from market leaders Markilux gives even better size range options, with up to 6000mm width using only end fixings, rather than inset brackets.
For a compact awning, the 970 offers some huge size options, up to 3500mm x 6000mm.
This cassette is also unique with a classic square edge and oblong design, enabling a range coloured to front panels to be available.
Other options include an integrated drop down 'ShadePlus' valance to provide adjustable shade from low lying sun. LED spotlights can be fitted underneath the cassette to provide an illuminated atmosphere, meaning the awning can be used late into the night.
Learn more about the Markilux 970 here
Awnings Designed to Last
Dyeing
Markilux offers sunsilk and sunvas, both of which are made with high-tech polyesters, offering fantastic UV radiation protection. These materials are the future of awning fabrics, with impressive longevity and fantastic self-cleaning properties.
Developments in the dying process have also meant that the range of colours is now much wider. Previously, colours would have to be dyed in huge quantities, meaning only a few colour options were available, however colours can now be printed in much smaller quantities, making them far more cost-effective.
Both the sunvas and the sunsilk materials are environmentally friendly, and completely non-toxic. All Markilux fabrics are certified with the 'Okotex' label, confirming that they adhere to Oko-Tex Standard 100 regarding harmful materials. All technical values have been tested in Germany by the manufacturer, but also independently to confirm the technical characteristics.
Bonding
Markilux's 'ultrasonic bonding' process is a marked improvement on other styles of joining fabrics, particularly for the purposes of awnings and blinds.
Markilux also refer to a 'holohedral' bonding process, which has replaced the older method of stitching panels together, offering a number of benefits. By bonding the panels together, the lifespan of these awnings is increased, as the thread that weathered and perished over time is no longer used. This thread was also susceptible to wearing when coming into contact with the bearings, which is no longer a concern.
The bonded panels also no not let water or light through at all, which the stitching join did. Being bonded instead of stitched also means the finish is smoother, which leads to less wear when being operated, extending the lifespan of Markilux awnings even more.
Note: If you wish to have your fabrics stitched rather than bonded, it must be made explicitly clear when ordering. Some conservatory awnings cannot be bonded, and are stitched as a result.
The Verano verandas allow you to enjoy the outdoors for longer and enrich your living environment, with stylish and luxurious design.
There are two models to choose from, both coming with a wide range of optional extras, such as glass walls to create an outdoor room, halogen or LED lighting and sun protection.
The Verano verandas are provided with a CE-mark, which means they are produced according to European specification, ensuring they are structurally safe for your garden.
One of these unique verandas will soon be installed in our Wellingborough showroom, for you to come and visit and more information on these products will be on our website soon.
Minimal design and practicality for small outdoor spaces
Coming Soon to Samson Awnings
As summer approaches, spending time outdoors becomes a real pleasure.
To create a comfortable, cosy corner, even in the smallest of spaces, we have designed a totally unique product: Med Jeans, the new Gibus pergola. This innovative product, with its slender, clean lines, has been especially developed to harmonize perfectly with buildings characterized by small outdoor spaces, such as urban homes, terraced houses or apartments with terraces.
Every detail has been designed by the Gibus Research & Development department with this aim in mind, from the light structure, conceived as a lean-to attached to an exterior wall, made of powder-coated aluminium, to the slender profile of the posts and guides, which have dimensions of 60 x 100 millimetres.
The Med Jeans pergola is available in two versions: single module, with a width of up to 450 centimetres, and two modules, which reach 700 cm. Both have a maximum projection of 500 cm and are available with either manual or motorized movement systems.
The strong point of each Gibus product is the perfect balance between functionality and style: even for Med Jeans, the focus on design and attention to detail are elements that make this product efficient and elegant.
The young, minimal look of this pergola is perfect for complementing any architectural style without becoming overly dominant. Thanks to its minimal design and clean, slender lines, this new pergola gives outdoor spaces a dash of dynamism and stylish cool.
This effect is also achieved by the absence of exposed screws, the well-finished wall mount which hides the operating mechanisms, and the retractable PVC cover supported by horizontal profiles with the patented "Quick Block" system with aluminium front bayonet.
The canopy does not just protect against UV rays, but, together with the "Weather Strip" system, it also ensures that the fabric remains waterproof. The Med Jeans solution is therefore ideal for setting up your Place Under the Sun, whether in spring and autumn or full summer, ensuring comfortable enjoyment in any climate.