News
As the summer winds down and we head into the Autumn, we face the possibility of another long and harsh Winter. Climate change has left many scientists warning that the previous 12 months of extreme weather could become the norm for these isles, and so the need to adapt whilst being energy efficient is one of the average household's most pressing challenges.
So what can you do to save energy and how can we help you?
LED Lights
Led lights are a big energy saver, using up to 75% less energy than their comparable halogen equivalent, and need replacing less often. Many of our systems such as Markilux awnings, Weinor retractable roofs or Gibus Med Systems have LED lighting as an option, and this is something that could be extended through your home.
While LED lights save money and conserve energy, they are also very bright, and are even available in a variety of colours, with remote controls available for some LED lights which allow you to change colour, have them alternate or even set up patterns.
External Shading
External shades are an often overlooked way to save money in the long run in warmer climates. During hot summers like the one we have just experienced, it can be difficult to cool down a property when the sun in beating down on the windows, cooking the room on the other side.
External shades allow you to prevent the sun from reaching the glazing and therefor stop the room from being heated without the use of fans or air conditioning, saving money and conserving energy. This is something that is going to become more important in the UK as climate change takes effect, and therefore is something that more households will need to consider than ever before.
Similarly, retractable awnings do a similar job, whilst also offering a larger shaded area outside for you to relax.
Markilux are a world leader in awnings and blinds, and vertical blind products such as the 710/810 and 750/850 or awnings such as the 990 being perfect for this purpose.
Infrared Heating
Infrared heating has many strengths over standard heating. It requires almost no warm up time and provides instant heating, making it perfect for outdoor use.
Infrared heating uses electromagnetic radiation, however it is 100% safe (our bodies actually emit infrared radiation, which is how things such as night vision goggles work). It is a different heat to our usual heating systems, which heat the air which comes into contact with it. Infrared heat meanwhile, travels through the air until it hits a solid object, at which point the object absorbs the heat. In people, this gives a deep feeling of warmth.
Because of this targeted heating, they conserve a lot of energy compared to conventional heaters and this can help you save more money. Infrared heaters are available on numerous systems available from Samson Awnings.
German umbrella giant May have unveiled that they are widening their selection of LED bars, to include even more colours to brighten up your outdoor space.
Previously you had the option of RGB colours or warm white LED bars, however there is now the option to have both in the same bar, making the system even more diverse.
What's more, these new RGB-ww bars are available at no extra cost. These new LED bars are even able to be controlled via an app. You can even combine different colours and even save various colours, patterns, combinations and brightness levels.
The free app for the transmitters (operated via Bluetooth) is available for download on the May website. The new RGB-www LED bars can be controlled by an app as well as a hand-held Bluetooth remote control sender. It is recommended to use the app however, as the Bluetooth sender limits it to controlling two parasols maximum.
The regular white LED bars are also still available.
For more information, please call us on 0800 328 6250.
Weinor has recently launched the new VertiTex II.
A compact, vertical awning, the VertiTex II by Weinor is a fantastic option for shading from the sun. The unobtrusive design creates an elegant awning that can be applied in a number of applications, including patio roofs, windows, conservatories and more. Available in widths of up to 6 meters, the VertiTex is suitable for various requirements you may have – it can be fitted virtually anywhere!
The awning is manufactured with three different operational methods that you can choose from:
– Zip: The fabric is held tight on both sides, meaning that it is highly tensioned and therefore wind-resistant
– Rail: The fabric is guided in a rail, the standard, universal option.
– Rope: Guided by a rope, this is the light version, and the most aesthetically delicate.
Weinor's extensive fabric colours, patterns and material designs, as well their offering of over 200 frame colours mean you are able to own the most ideal vertical awning that is perfect for your home's façade.
May Umbrellas have adapted their range of colour and fabrics, aiming to update their products for the year of 2018.
May Umbrellas are premium parasols designed to fit in equally amongst the domestic and commercial markets, and look fantastic amongst any setting. With a range of designs that include side-supported and centre pole umbrellas, there are plenty of designs available to choose from.
Discontinued colours
MayTex-Acryl, SA 314 008 ochre
MayTex-Acryl, SA 314 019 terracotta
MayTex-Acryl, SA 314 257 green/black
MayTex-Acryl, SA 314 271 navy blue/black
MayTex-Acryl, SA 314 344 multi color (Available at extra cost)
MayTex-PVC, 302 1496 mandarin (Available at extra cost)
MayTex-PVC, 302 1497 rust (Available at extra cost)
Changed from gloss finish to matt
MayTex-PVC, 302 1093 beige becomes 302 544 beige matt
MayTex-PVC, 302 1115 dark brown becomes 302 328 darkbrown matt
MayTex-PVC, 302 056 green becomes 302 814 green matt
MayTex-PVC, 302 390 grey becomes 302 331 grey matt
Additional colours
MayTex-Poly, M 9654 graphite grey
MayTex-Acryl, DA 7244 lime green
MayTex-Acryl, SA 314 396 green/apple green, structured
MayTex-Acryl, SA 314 007 pure red
MayTex-Acryl, SA 314 397 magenta
MayTex-Acryl, SA 314 143 mallow
MayTex-Acryl, SA 314 851 vanilla
MayTex-Acryl, SA 314 402 black/beige, structured
MayTex-Acryl, SA 314 028 stone grey, mottled
MayTex-Acryl, SA 314 030 light grey
MayTex-Acryl, SA 314 398 atlas grey
MayTex-PVC, 302 378 slate grey matt
MayTex-PVC, 302 165 beige grey matt
As part of our Great British Glass Off offer, Verano's fantastic Garda glass roof system has recently been installed for the first time by Samson Awnings.
An exceptional glass roof system, it can have either a glass or polycarbonate roof, allowing for different needs and budgets, and can also have an awning style fabric system installed either above or below the roof. Alongside this, lighting can be requested as either halogen or LED spotlights. It is also a modular system, allowing the sides to be filled in at a later date with glass elements such as wall panels and doors.
This particular Garda roof was fitted to a domestic property, and was erected so easily and unobtrusively that the customers wife actually missed the system being set up!
Finished in anthracite, this system blends perfectly with the colour of the bi-folding doors that are underneath. This system is fitted with 8.8mm glass, which offers superb vision combined with fantastic durability, with the added benefit over polycarbonate options of being much quieter in the rain.
For more information, please do not hesitate to contact us.
The Ulimate UK Weather Protection!
Awnings and glass rooms both have their advantages and disadvantages. Awnings are adaptable, yet unable to cope with heavier wind and snow. Glass rooms meanwhile are more fixed, however lack natural shading, merely rain and wind protection.
Perhaps this is why it has become an option with many glass rooms to have an awning attached. Often fixed to the roof of the glass room itself, the awning extends via runners and this adds stability to the awning itself. These can be placed either above or under the glass, with each having advantages. Outside shading is perfect for keeping the sun from heating up the glass, increasing the temperature, whilst inside shading prevents wind or heavy rain from becoming an issue.
The benefit of this means that not only can you shelter from the rain and wind, and even snow in the summer, but you can also provide shade from the summer sun. This transforms an already impressive glass room into a truly year round all weather system.
The benefits of this are obvious. When combined with sliding glass doors, you can create an area that can be entirely closed off, with a shaded roof, yet can also be completely opened up, with a glass roof and no walls.
Examples for suitable systems:
Weinor Terrazza
The Terrazza is a glass and aluminium roof structure, designed for us on a terrace or patio in any domestic or commercial environment.
The Terrazza can have shading added, with a product called the Sottezza, an under-mount anti-glare screen that blends in perfectly and shields the area underneath from the sun.
The Terrazza has a couple of different roof models and shapes, meaning that every need is catered for, and sides can be personalised to make them more stable or transparent.
An elegant and appealing design, the Terrazza has a number of different options to suit different needs, and can be fitted with lights to extend usability.
Weinor GlasOase
The Weinor GlasOase is designed to be the ultimate in roof protection. It has a high quality aluminium profile, and a roof that is similar to that of the Terrazza, but is designed from the ground up to be transformed into a glassroom.
Sides can be filled in with a variety of options, such as glass panels, sliding or folding glass doors and more, and the sides include minimal posts, offering a truly panoramic view of the surroundings with a possibility for full-surface glazing, with no restrictions to the view.
The GlasOase can also have both inside and outside shading, making it an incredibly versatile system. Alongside this, both LED lighting and infrared heating systems are available, both of which are energy efficient.

Verano Riva
The Verano Riva is a stylish and sturdy glass roof system, which when filled in at the sides uses exceptionally high-quality glass to create a fantastically clear veranda, which offers protection from all sorts of weather conditions, from sun shading, to winds and rain, and even light snow.
There is also the option for polycarbonate to be used, and whilst this is cheaper, it does make it much noisier in wet weather conditions. Alternatively, you can also fill the sides with zip screens as well as the standard glass partitions or sliding glass doors.
Similarly to the glasOase, the Riva has minimal posts, which allows for fantastic views, without losing any of the structural integrity. The Riva only needs two supports to span 6.5 metres, and does this with ease.
Both halogen and LED lights are available built into the structure, which can save up to 30% on energy costs, whilst shading is placed above the roof.
For more information on these options, please contact us.

Wintergarden Offer
Our British summer is never quite long enough, so why not extend the season and the usability of your garden or outside space with a stylish wintergarden/glass room. Our completely bespoke solutions make a valuable addition to any home or business.
With a broad range of systems, the options are enormous. From giant Pergotex retractable roof systems which can filled in, and Glasoase systems that make excellent glassrooms that lean to an existing wall or structure of your house, to Med Twist and Varia systems which contain stunning louvred roofs and can be stand alone systems.
These systems suit both commercial and domestic properties. Domestically they can be used to host guests and entertain, as well as a possible island of tranquility for you to relax. Commercially, the systems work particularly well in the food and drink sectors, with cafes, restaurants and bars often using them to extend the usability of their outdoor space.
With extras such as LED lights, the usability of these systems all throughout the evening and night is extended even further. Alongside this, infrared heaters are available for colder days. These heating systems are not only powerful but save up to 30% on energy costs compared to traditional heaters;.
Our Autumn sale on any glass room or louvred rood system is now on!
This season, any like for like quotation will be beaten on these products. Give us a call now and discuss this.
A brand new system from Gibus, the Med Varia is truly a league apart from others.
The system has a roof similar to that of the Med Twist, with aluminium blades that twist and rotate. They open up to an impressive 135°, and can be adjusted to provide just the right amount of shade or heat. When open, the blades create a natural airflow that feels like being outside, yet when closed, the blades form a full roof, with a watertight seal that prevents occupants underneath from getting wet. Rain water is dealt with via an internal guttering system.
The Med Varia comes with zip closures already built into the frame, so blinds to protect from the sun are a large part of the system and can be combined with glass panels or doors for a truly stunning and multi-faceted approach that protects against all weather systems. Alongside this, there is a broad range of extras available for the Med Varia. LED lights help illuminate the system and combined with infrared heating systems, they manage to extend the amount of time your business can use your outdoor space, all whilst saving up to 30% on regular light and heating systems.
Every single Med Varia is a totally bespoke system, made to order to the exact specifications required by the customer. The systems allow multiple units to be joined, allowing for a huge variety in the shapes and sizes of the system. This means that no matter what space you have, this system has you covered.
This system can even have drop awnings fitted onto the side, with minimal intrusion on the design, up to 4 metres wide. The shading options vary, from total blackout blinds to crystal, all of which can be motorised.
A new awning from Weinor, the Semina Life is an extension of the already existing Semina line. The Life is a full cassette awning which not only looks great, but is also technically impressive. A great all-rounder, this awning is incredibly well built, and comes with a host of extras.
Aesthetically, the Semina Life is difficult to beat, with modern clear lines. There is a choice of over 150 fabric patterns, with a state of the art nanotechnology ensuring that dirt simply rolls right off.
There is also 200 frame colours to choose from. 50 of these colours come as standard, howver there are 150 additional RAL colours to choose from as an extra. The powder coating for these is all done at the in-house factory, ensuring the highest quality finish. The stainless steel headplate rings on the side provide a visual highlight and enhance the customised combination of the frame colour with fabric pattern.
The Weinor LongLife Arm has a very high tension force, which protects against even incredibly windy conditions, and allows the awning to have a maximum projection of 6.5 metres x 4 metres.
Alongside this, the Semina Life has a host of extras. The Semina Life LED has warm white LED lighting built into the cassette, which can be dimmed and brightened as needed. Alongside this, there is also the Tempura heating system.
With the motor drive system, and the weinor BiConnect radio control, the system is easily operated, and you can even use the BiEasy app to operate the system via your phone or tablet.
Samson Awnings are pleased to present a new product to our range of louvred roof systems, the Pergola Agava. The roof consists of motorised aluminium blades that lock to form a water tight seal, these systems can provide shelter even in the worst of wet weather conditions. The blades have a full 120° of movement, which when open encourage not just sunlight to enter, but also a natural feeling airflow from above.
The system really is the perfect mix of sun and shade, and it's striking and beautifully minimalist design hides it's impressive technicality. Able to be mounted to the wall, the fittings that enable this are completely invisible, and the motor that powers the blades is incorporated into the frame.
The frame itself is constructed using sturdy and stylish aluminium, which means the system really is strong, durable and highly weather resistant. The Pergola Agava is able to withstand sun, wind, rain and even snow loads. Rainwater is channelled away to avoid remaining stagnant and damaging the blades, through the insides of the supporting columns and exits at ground level, and the system is made in accordance to UK Wind and Snow Loadings.

This is a highly flexible system, with a range of three options, the largest able to cover an area of up to five metres by seven metres. Alongside this, multiple systems can of course be coupled together to create much larger covered areas.
It is also able to exist as a self-supporting stand alone (or "island") system, or it can be a "lean to" system which is fitted and bolted to an existing wall or structure. The sides can be filled with glass doors, wood or aluminium panels (all of which are sliding to allow for full flexibility), or motorised blinds.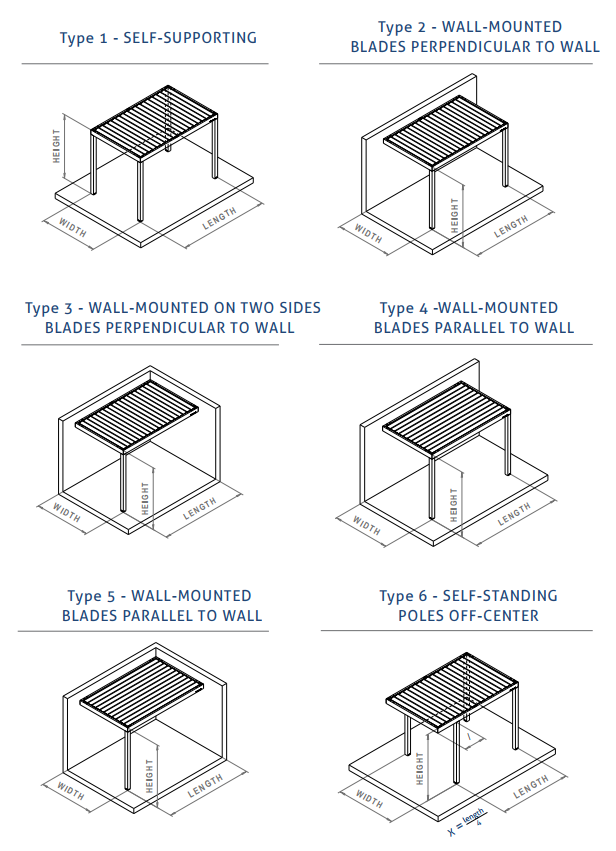 Additionally, they come with a variety of optional extras, such as LED lights incorporated into the blades, heater systems, and even sensors that detect wind, rain, snow, and the temperature. There's also an option for incorporated sound systems that can turn the area into either the soul of the party, or an island of tranquillity where you can relax, sheltered from the effects of the weather.

Both the frame and the roof blades can be finished in a choice of three colours as standard, however for a small additional cost they can be finished in any RAL colour. This can help with commercial branding, blend in to the environment or even stand out and make a statement.
The Pergola Agava comes with a five year guarantee for the frame, and a two year guarantee for the electrical components.