News
Samson Awnings are pleased to present a new product to our range of louvred roof systems, the Pergola Agava. The roof consists of motorised aluminium blades that lock to form a water tight seal, these systems can provide shelter even in the worst of wet weather conditions. The blades have a full 120° of movement, which when open encourage not just sunlight to enter, but also a natural feeling airflow from above.
The system really is the perfect mix of sun and shade, and it's striking and beautifully minimalist design hides it's impressive technicality. Able to be mounted to the wall, the fittings that enable this are completely invisible, and the motor that powers the blades is incorporated into the frame.
The frame itself is constructed using sturdy and stylish aluminium, which means the system really is strong, durable and highly weather resistant. The Pergola Agava is able to withstand sun, wind, rain and even snow loads. Rainwater is channelled away to avoid remaining stagnant and damaging the blades, through the insides of the supporting columns and exits at ground level, and the system is made in accordance to UK Wind and Snow Loadings.

This is a highly flexible system, with a range of three options, the largest able to cover an area of up to five metres by seven metres. Alongside this, multiple systems can of course be coupled together to create much larger covered areas.
It is also able to exist as a self-supporting stand alone (or "island") system, or it can be a "lean to" system which is fitted and bolted to an existing wall or structure. The sides can be filled with glass doors, wood or aluminium panels (all of which are sliding to allow for full flexibility), or motorised blinds.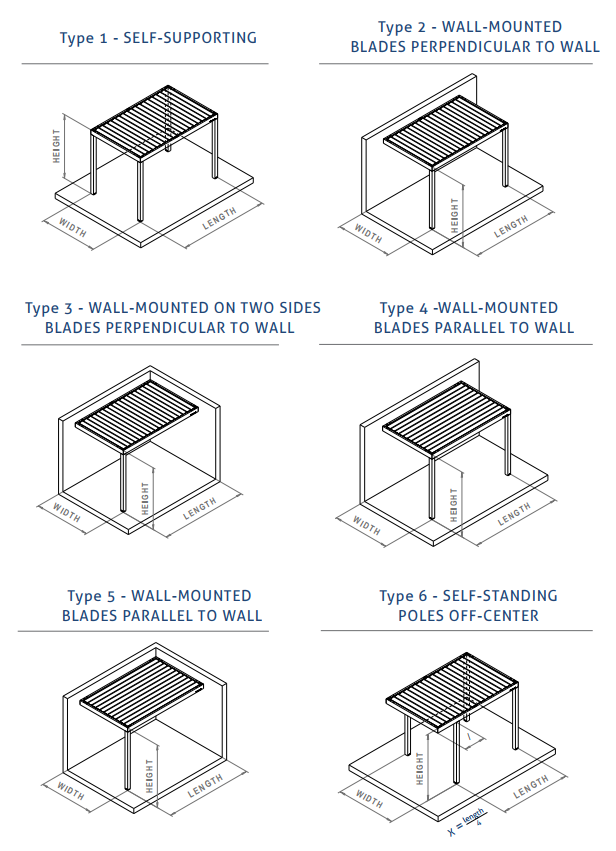 Additionally, they come with a variety of optional extras, such as LED lights incorporated into the blades, heater systems, and even sensors that detect wind, rain, snow, and the temperature. There's also an option for incorporated sound systems that can turn the area into either the soul of the party, or an island of tranquillity where you can relax, sheltered from the effects of the weather.

Both the frame and the roof blades can be finished in a choice of three colours as standard, however for a small additional cost they can be finished in any RAL colour. This can help with commercial branding, blend in to the environment or even stand out and make a statement.
The Pergola Agava comes with a five year guarantee for the frame, and a two year guarantee for the electrical components.
Recently fitted by Samson Awnings & Terrace Covers, these Markilux external window blinds were requested to provide sun shading on a large and uniquely shaped window on a domestic property. For this particular window we divided it into two blinds, a simple square blind at the bottom and a more unique triangular blind above.
The Markilux range of external fabric cassette blinds is incredibly diverse, and it includes the special Markilux 893 blind, designed for use on triangular windows.
The majority of blinds we sell utilise RTS technology, and similarly, this blind is electrically operated as standard. Because of this, the motor drive is able to be controlled wirelessly, and this gives the flexibility to add many different controls over and above the simple remote control handset. Timers, sun sensors, themostats and other controls all give the possibility of controlling both the light and temperature even when you are away from your property.
This blind is designed to fit externally, to prevent solar gain and also to provide additional privacy. External blinds are fast becoming a more popular product for temperature control in buildings across the UK, following the lead of our European neighbours.
Using an external blind provides an additional layer of sunlight control, protects against the wind, and also provides some additional security when using the zip blind system, with the fabric zipped in the side channels and pulled out of the cassette under tension. Many modern fabrics are incredibly resilient to all sorts of weather conditions, and there are also many options for perforated materials, which will allow some limited vision when closed too.
All of the blinds are purpose made to order, and provide an excellent solution to a lot of shading and wind protection issues.
For more on your options regarding shading for your properties windows, click here
For more on our vertical blind products, click here