News

Wintergarden Offer
Our British summer is never quite long enough, so why not extend the season and the usability of your garden or outside space with a stylish wintergarden/glass room. Our completely bespoke solutions make a valuable addition to any home or business.
With a broad range of systems, the options are enormous. From giant Pergotex retractable roof systems which can filled in, and Glasoase systems that make excellent glassrooms that lean to an existing wall or structure of your house, to Med Twist and Varia systems which contain stunning louvred roofs and can be stand alone systems.
These systems suit both commercial and domestic properties. Domestically they can be used to host guests and entertain, as well as a possible island of tranquility for you to relax. Commercially, the systems work particularly well in the food and drink sectors, with cafes, restaurants and bars often using them to extend the usability of their outdoor space.
With extras such as LED lights, the usability of these systems all throughout the evening and night is extended even further. Alongside this, infrared heaters are available for colder days. These heating systems are not only powerful but save up to 30% on energy costs compared to traditional heaters;.
Our Autumn sale on any glass room or louvred rood system is now on!
This season, any like for like quotation will be beaten on these products. Give us a call now and discuss this.
A brand new system from Gibus, the Med Varia is truly a league apart from others.
The system has a roof similar to that of the Med Twist, with aluminium blades that twist and rotate. They open up to an impressive 135°, and can be adjusted to provide just the right amount of shade or heat. When open, the blades create a natural airflow that feels like being outside, yet when closed, the blades form a full roof, with a watertight seal that prevents occupants underneath from getting wet. Rain water is dealt with via an internal guttering system.
The Med Varia comes with zip closures already built into the frame, so blinds to protect from the sun are a large part of the system and can be combined with glass panels or doors for a truly stunning and multi-faceted approach that protects against all weather systems. Alongside this, there is a broad range of extras available for the Med Varia. LED lights help illuminate the system and combined with infrared heating systems, they manage to extend the amount of time your business can use your outdoor space, all whilst saving up to 30% on regular light and heating systems.
Every single Med Varia is a totally bespoke system, made to order to the exact specifications required by the customer. The systems allow multiple units to be joined, allowing for a huge variety in the shapes and sizes of the system. This means that no matter what space you have, this system has you covered.
This system can even have drop awnings fitted onto the side, with minimal intrusion on the design, up to 4 metres wide. The shading options vary, from total blackout blinds to crystal, all of which can be motorised.
Samson Awnings are pleased to present a new product to our range of louvred roof systems, the Pergola Agava. The roof consists of motorised aluminium blades that lock to form a water tight seal, these systems can provide shelter even in the worst of wet weather conditions. The blades have a full 120° of movement, which when open encourage not just sunlight to enter, but also a natural feeling airflow from above.
The system really is the perfect mix of sun and shade, and it's striking and beautifully minimalist design hides it's impressive technicality. Able to be mounted to the wall, the fittings that enable this are completely invisible, and the motor that powers the blades is incorporated into the frame.
The frame itself is constructed using sturdy and stylish aluminium, which means the system really is strong, durable and highly weather resistant. The Pergola Agava is able to withstand sun, wind, rain and even snow loads. Rainwater is channelled away to avoid remaining stagnant and damaging the blades, through the insides of the supporting columns and exits at ground level, and the system is made in accordance to UK Wind and Snow Loadings.

This is a highly flexible system, with a range of three options, the largest able to cover an area of up to five metres by seven metres. Alongside this, multiple systems can of course be coupled together to create much larger covered areas.
It is also able to exist as a self-supporting stand alone (or "island") system, or it can be a "lean to" system which is fitted and bolted to an existing wall or structure. The sides can be filled with glass doors, wood or aluminium panels (all of which are sliding to allow for full flexibility), or motorised blinds.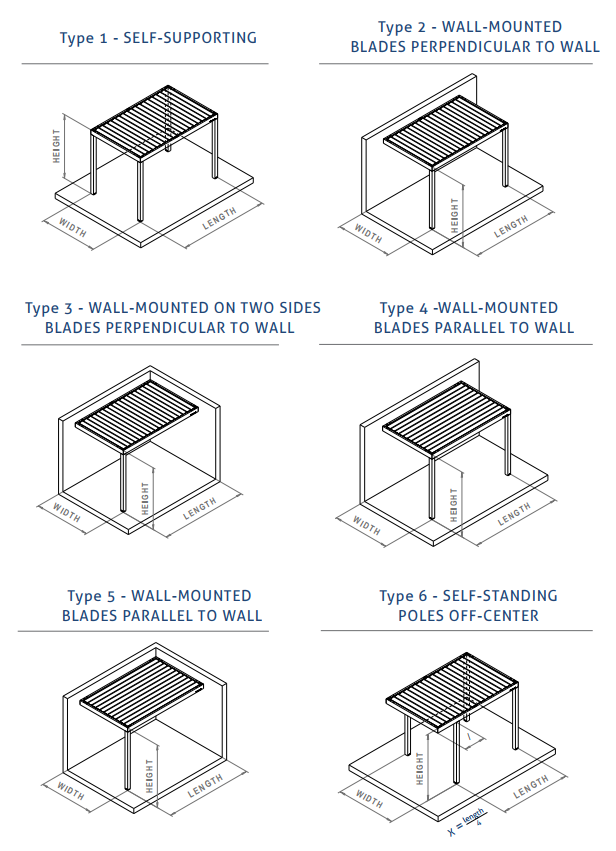 Additionally, they come with a variety of optional extras, such as LED lights incorporated into the blades, heater systems, and even sensors that detect wind, rain, snow, and the temperature. There's also an option for incorporated sound systems that can turn the area into either the soul of the party, or an island of tranquillity where you can relax, sheltered from the effects of the weather.

Both the frame and the roof blades can be finished in a choice of three colours as standard, however for a small additional cost they can be finished in any RAL colour. This can help with commercial branding, blend in to the environment or even stand out and make a statement.
The Pergola Agava comes with a five year guarantee for the frame, and a two year guarantee for the electrical components.